Welcome to the Lantana Junk Removal and Trash Haulers Team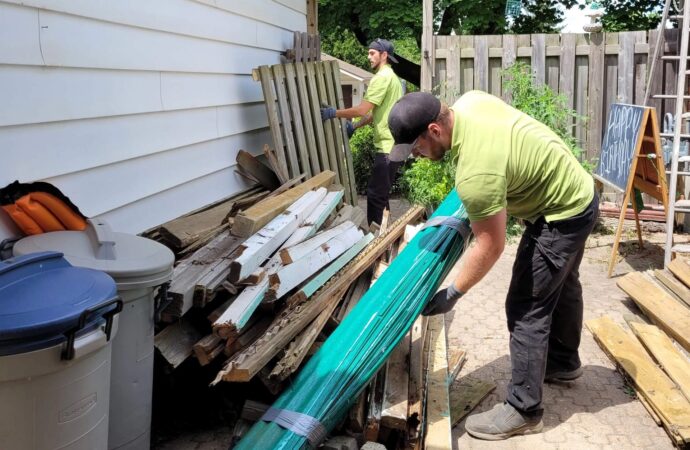 Our team at Lantana Junk Removal and Trash Haulers is qualified and experienced in dealing with your junk removal and cleanout needs, including disposing of or recycling all the appliances and electronics you have at home. We are always making sure we cover junk removal in every aspect:
Dispose of your regular or general rubbish.

Make sure you can clean out an entire property, be it a residential or commercial one.

Lift all the heavy items and take care of the removal from the very beginning.

Offer more than one truck and two members of our team when necessary.

Ensure you get all the support for your projects and needs around your disposal.
Our company is one of the few in the country that will offer all the solutions in one place, so you don't have to worry about the junk in your office, old appliances in your house, or maybe the damaged shed and fence in your land. We will be there regardless of the service you need and how we can help you with everything, so there is no need to worry about how the entire junk is moved or not.
One thing you must know is that we are limited to one type of junk and waste: the one that is non-hazardous. You can have our members and team dispose of all the furniture and items you have as long as the waste and more items or materials aren't hazardous, which often is mixed with substances, chemicals, and more.
We want to make sure you keep this in mind, as we have been having some regular issues with calls about hazardous or chemical items and objects. Those need qualified personnel and entities that can offer support with the removal, so make sure you take care of the process with those qualified for it.
But what does non-hazardous junk include? Isn't everything possible to contaminate or pollute the environment?
Food waste, furniture, wood, old sheds, appliances, and the usual or regular junk you can find at home or your commercial property enter this category without any issues. If you have some waste that you know will easily affect someone's health, the hazardous category comes to play here, and we won't be picking up this type of junk or trash.
Make sure to ask our team if you have any questions about what we can pick up for you or not. We will give you a full list when needed, and if you aren't sure if what you have, in addition to some junk and waste, will be picked up while we help you with more regular removal.
Also, we want you to keep in mind that removal, disposal, recycling, and just the entire process of getting rid of what you have will be done based on the service you request since different equipment, trucks, and a number of members and employees supporting you will vary depending on the specific project and junk you want us to haul away for you.
How We Support Your Junk Removal Needs
We make sure you get all the trucks, workers, and help needed to ensure that the junk you need to remove is moved and loaded without you having to lift a single finger.
This can take a lot of time and work for some people, but we will be there to ensure that assistance and support are included based on your request.
The service you request from our company will make the entire support vary, but quite slightly, considering that most removal and cleanouts need several people dealing with your items and working around all your needs for disposal.
What we want you to know besides the way we can just be there whenever you need it is the fact that we focus on recycling and proper transition and disposal.
When you decide to work with us, you are guaranteed to have a team that worries about the planet and will focus on how we can move everything to transition centers for proper disposal or just move them to our recycling facilities or those of our partners, so the items are taken care of while we get the most out of the materials.
With this in mind, we also donate several items depending on their condition and if we are allowed unless you have some good reasons for us to move them to the recycling area instead.
We will focus on how we can help you while keeping the planet green and ensure everything is sorted out during the removal and hauled in the right places afterward.
We Have the Service You Need
If you need help deciding what service you need, you can always call or email our team so it can guide you through the selection process.
Maybe you need more than one service, or maybe you are trying to get some specific junk removed; if you have doubts about how we can help you or not, our staff is always available, so allow us to give you the information you need and all the answers necessary. With this in mind, you can also have a look at our services below so you can go slowly and make a decision about what you think would fit best for your junk removal goals:
Contact Us for a Free Estimate
If you're considering the idea of having our team working on your junk removal needs and providing you full support, you only need to call or email us. You can fill out our contact form as well and get all the assistance.
We are here to make sure you don't have to handle the heavy lifting, undesired waste, or move several items and trash without any type of equipment.
Lantana Junk Removal and Trash Haulers offers more than just a simple pickup. We will be there to guarantee you don't have to lift a finger and can still get everything done thanks to our qualified team with all the equipment needed.
We want you to have a good experience and get your removal or cleanout done in no time with our help. Now, how much will this cost you?
Estimates or quotes are personalized depending on your project and the service you need in specific. If you want to ask for regular rubbish and trash or even junk removal for homes or businesses, everything depends on the volume and space you take from our trucks in most cases.
Hard labor and how we helped are also included but aren't the main influence on the final price.
You can request a free quote from our company, which comes with zero obligations, and you can rest assured you won't regret giving us a chance to inspect the amount of work and junk you want us to take care of you and then giving you enough time to think about hiring our team.
Here is a list of our services you can get at Lantana Junk Removal and Trash Haulers:
---
Lantana Junk Removal and Trash Haulers is the top company in Lantana that offers the best residential and commercial junk removal services. Here's our additional services:
---