Expert Shed Removal & Demolition Services in Lantana, Florida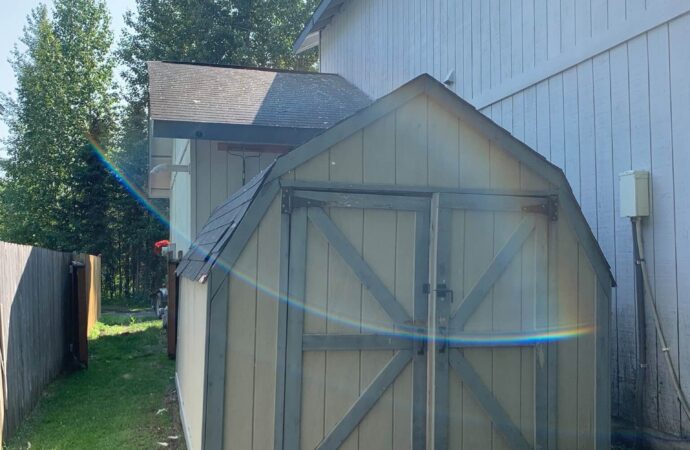 Although sheds are useful and can be used to get stuff done like repairs, prepare pieces or for renovations, and maybe store the items and tools you use frequently, they can become messy and cluttered over time when you don't know how to control what you've been storing away. Even if your shed is small and you only have a few garden tools and lawnmowers, it can quickly grow to be full of junk, and this is when you need to be honest about yourself. Now, what if the case is a shed that is old and damaged, and it is only a nuisance for your space? This will require a full removal, not just removing parts of the junk you have stored, and our team at Lantana Junk Removal and Trash Haulers can help you with this.
We will take out all the items and remove the old pieces, and load your junk into our trucks. We can also disassemble your shed to haul it away if needed in case you're struggling with this process.
We make shed removals and demolition services simple. We can remove all old lawnmowers or sheds. Contact us to request assistance since our team will be happy to assist you throughout the process.
Is it necessary to obtain a permit for the demolition of your shed? It is, but we can also handle it for you.
A permit is required to demolish a shed in most states due to work involved. A permit is required for any type of building construction or alteration, so you ought to remember this from here onwards. This is especially true in large urban areas.
Some exceptions apply to the requirement that a permit is obtained to demolish sheds. We will, however, apply for the permit in most cases. We tell our clients this: Let us be there for you and take care of the removal, so rest assured the permit would be included and handled by us as well.
Now, are we able to handle the shed you need to remove?
There are many sizes and shapes of sheds. The more difficult it is for them to be removed, the greater the difference in cost and prices.
Our team can remove any type of shed regardless of its size.
Our members offer estimates on-site so that you know exactly how much you will be paying. The quote also comes with no obligations, and you can have us visit later when you make a decision.
The type of foundation used will determine the cost of shed removal the most. It will cost more to remove a shed with cement anchor points than one that is on the ground, and the entire structure is wood, for instance.
How to Get Your Shed Removed in Lantana
If you need help, we can assist with the entire process. It all depends on the shed you have and how it was made.
However, we are not really limited in what we can do for you or not, so rest assured we can be there to handle all the disposal step by step and provide all the support you need so this shed removal isn't an issue.
If you need a same-day service or want to book us, feel free to call us, email our team, or use our contact form.
Here is a list of our services you can get at Lantana Junk Removal and Trash Haulers:
---
Lantana Junk Removal and Trash Haulers is the top company in Lantana that offers the best residential and commercial junk removal services. Here's our additional services:
---