Expert Electronic Waste Junk Removal in Lantana, Florida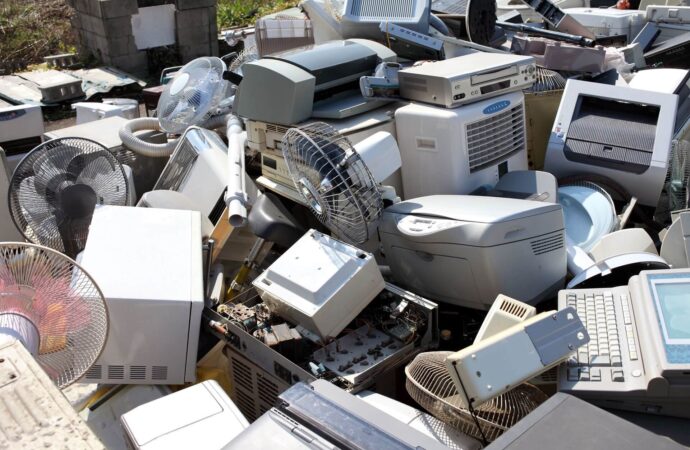 If you're struggling with the process of finding companies and help that can help you with electronic waste junk removal, you don't have to worry any longer. Our team at Lantana Junk Removal, and Trash Haulers can help you with the disposal by focusing on how to recycle, donate, or dispose properly of the items. Whether they are old and damaged or items that are no longer in use, we will take care of your electronic waste.
Get rid of e-waste fast with us, and stop worrying about how you will handle the entire process. Our team has the electronic removal service you need, and our services are available ASAP. So, get in touch and have your own estimate in a day with a visit from our team, who will evaluate the amount of junk you have and how much work it will take to remove your items and waste.
Keep in mind our visit for this estimate is completely free, so you can rest assured that if we go there, give you the estimate, and wait for your answer or decision, this will be free of any charges.
Quality Junk Removal Services You Can Trust
So, looking for someone to take that e-waste off your hands? Then look no further. We know that what you may be wondering right now is how we are capable of handling the entire process and making sure you get the most out of your time, and yes, we can. We are quite focused on how we dispose of the waste, and rest assured that we can take several items:
Computers and computer parts.

Televisions and monitors.

Phones.

Wires and scraps.

And many other electronics!
Now, if you're wondering how much this entire service can cost you since you need that e-waste gone for a good price. Then you don't need to worry, and rest assured we're the right choice for you. With us at Lantana Junk Removal and Trash Haulers, you'll get a deal. That's because all of our junk removal services are priced in a way that's fair for our clients.
Jobs are priced based on volume. There is a minimum charge for smaller jobs, and we will make sure to determine how much you will take based on the visit we make for the free estimate you get.

We use upfront quotes. So you don't have to worry about unexpected fees.

Get a cost estimate today at no cost to you, and focus on letting us know all the electronics you need us to dispose of.
Electronics Removal Recycling
In our company, our team is proud to help the planet by recycling. This way, we help keep waste out of landfills and make sure everything goes to recycling facilities or is donated accordingly.
We recycle what we can and dispose of the rest.

In addition, lightly used electronics may apply for a donation, so rest assured we keep our word on this.

Any donated items will get you a tax write-off for later use, so you can benefit beyond the usual fact of helping the planet.
If you decide to work with us, getting your appointment is easy:
Firstly, give us a call to talk to someone at our home office.

Additionally, you can book online instead.

Cost estimates are available upon request.

Lastly, we'll give you a 2-hour arrival window, so you know when to expect us.
Here is a list of our services you can get at Lantana Junk Removal and Trash Haulers:
---
Lantana Junk Removal and Trash Haulers is the top company in Lantana that offers the best residential and commercial junk removal services. Here's our additional services:
---